Mission Hills, the World's Largest Golf Resort – Part 1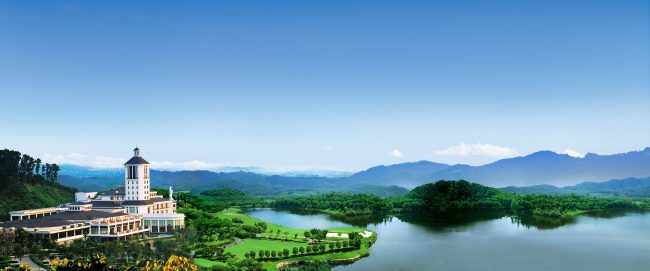 golfscape takes a look inside the world's largest golf resort, Mission Hills. Discover how founder Dr. David Chu brought golf to China with a vision, determination, and goodwill.
"His mission was to bring China to the world and the world to China." – Tenniel Chu, Group Vice-Chairman, Mission Hills.
The story so far…
Founded in 1992 by Dr. David Chu, Mission Hills is the largest golfing resort in the world featuring a total of 396 holes accredited by the Guinness World Records. Altogether, there are 12 courses at Mission Hills Shenzhen and another 10 courses at the group's Haikou complex on Hainan Island. Mission Hills Group has expanded its business across the cities of Dongguan, Shenzhen, and Haikou and invested a total of 40 billion RMB in Mainland China.
Founder, Dr. David Chu is a Hong Kong native who was inspired to buy a piece of land in Shenzhen after visiting a golf course in Toronto in the late 1980s. After this, Chu approached golfing legend, Jack Nicklaus, to design his first course. The Nicklaus design then went on to host the World Cup in 1995. In 2008, Chu secured a position in the top 10 figureheads worldwide in Golf Inc's list of the 'Most Powerful People in Golf.'
It is probably no exaggeration to say Chu is the man most responsible for China's golf boom. – Golf Inc.
Visionary Founder, David Chu sadly passed away at the age of 61 in 2011 after a long battle with cancer. "My father is a pioneer," said Chu's son Ken. "He believed that golf would flourish in China … it was his vision that has made Mission Hills what it is today."
David Chu's sons, Ken who is now Group Chairman and CEO, and Tenniel Chu who is now Group Vice Chairman, have now taken over at Head Office at the Mission Hills Group. The brothers are continuing their late father's mission to promote golf in the mainland and to support the next generation of sports personalities in the country.
"I thought golf was a retirement sport, but it's not until I came back to assist my father, then I realized that golf is a business language, it is a social networking tool. – Ken Chu, Group Chairman and CEO, Mission Hills.
Did you know that Mission Hills Shenzhen is the world's only club featuring designers from five continents?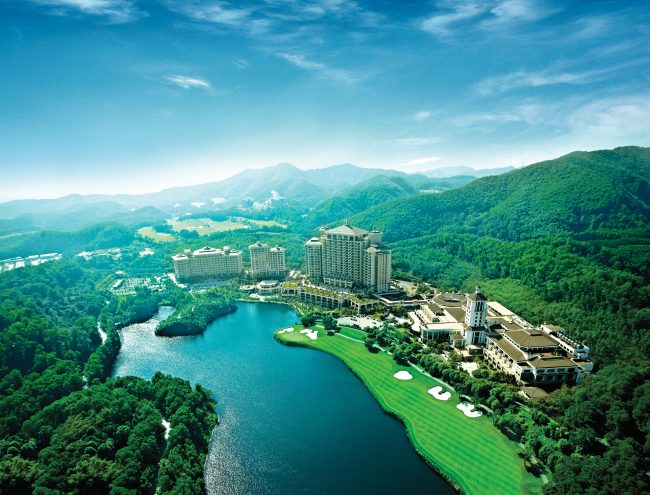 Due to the fact that it's 12 signature courses are designed by golf legends from around the globe including Jack Nicklaus, Greg Norman, Nick Faldo, Ernie Els, Annika Sorenstam – to name a few! Mission Hills Shenzhen has hosted over 100 major international tournaments and in 1995 held China's first world renown golf championship, the 41st World Cup of Golf. The tournament was also broadcasted across the country making it a first in China's history.
Established in 2011, Mission Hills Haikou is located in the capital of southern China's Hainan Island. The course is the result of a government-led initiative to make the tropical island of Hainan the sports capital of Asia.
So what is the mission behind the Mission Hills Group?
When my late father founded Mission Hills in 1992, his vision was to promote international goodwill through golf. By creating the world's largest golf facility, with championship courses designed by signature players, and international events attended by world famous golfers and celebrities. His mission was to bring China to the world and the world to China.

In the past decade my brother Ken and I have evolved that vision into a 'Golf and More' strategy, creating a world-class destination that combines sport with entertainment, culture, retail, hospitality, wellness, and education. Our mission is to create happy, health, and harmounious lifestyles for the whole family and be a pionner for the global lesiure and tourism industry. – Tenniel Chu, Group Vice-Chairman, Mission Hills.
Mission Hills' greatest achievements to date:
1999 – Nick Faldo completes China's first stadium course at Mission Hills, adding the fourth 18 hole course to the resort's collection.
2001 – The Mission Hills Tiger Woods China Challenge marks the legendary player's first trip to China.
2003 – Mission Hills opens 5 more 18 hole courses designed by Annika Sorenstam, David Duval, David Leadbetter, Jose Maria Olazabal, and Greg Norman.
2004 – Mission Hills makes history. With 10 courses and 180 holes, Mission Hills is accredited by the Guinness World Records as the world's largest golf club, beating America's famous Pinehurst Golf Club.
2006 – Mission Hills and the Asia Pacific Golf Confederation jointly creates the Mission Hills Aces Pacific Open Amateur Championship. This is the first event in China where player results counted towards The R&A's amateur rankings.
2007 – The club beats its own world record by adding an eleventh course by master golf course architect Peter Dye, and a twelfth layout by the Chinese godfather of golf, Zhang Lianwei.
2009 – Founder, Dr. David Chu, is named in Golf Inc.'s 2009 list of the 'Most Powerful People in Golf.'
2012 – Mission Hills celebrates it's 20th Anniversary!
2014 – "Mission Hills" is officially recognized as a Famous Trademark of China by the State Administration for Industry & Commerce of China Trademark Review and Adjudication Board. This is another significant milestone in the history of China Golf as Mission Hills becomes the first and currently the only enterprise with this recognition.
2014 – A total of 1,987 golfers makes history at Mission Hills Shenzen-Dongguan by taking part in the biggest single-day golf tournament in history. Officially accredited as 'The World's Largest One-Day Golf Tournament' by Guinness World Records.
2013-2016 – Mr. Tenniel Chu and Dr. Ken Chu rank as No.1 'Most Powerful People in Asian Golf' by Golf Inc.
2018 – Missions Hills Haikou is IAGTO's Asia Pacific Golf Resort of the Year.