8 Why Reasons Snapchat Spectacles are Golf Friendly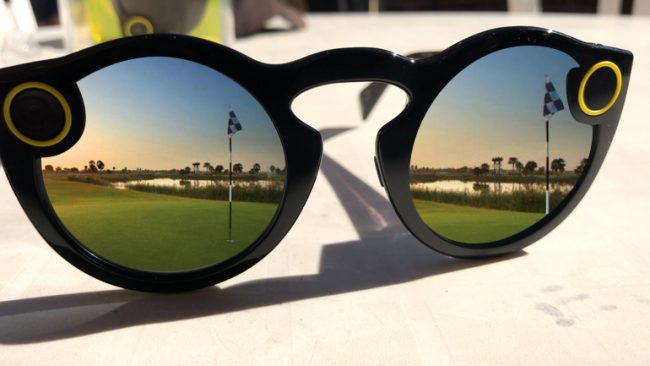 You might have heard of Snapchat's latest product – Snapchat Spectacles which they launched last week in limited quantities through vending machines. If you missed the story, essentially the spectacles are sunglasses with a built-in camera. A button on the side of the eyewear lets you trigger a camera. When you tap it a light will flash and spin around signalling a recording is in progress to let people around you know. You can send the recordings to your smartphone through Bluetooth to post the recordings on your Snapchat story or send directly to your friends through the app. The spectacles come with a chargeable case so you can record an entire day out on the golf course if you desire.
So what does this mean for us golfers?
These spectacles could change the golfing industry for the better. Here are eight reasons why:
1. No more harassing your playing partners to record your tee shots
Spectacles will save you from constantly asking your playing partners to record your tee shot. 'Handsfree' has a new meaning now and you can keep your focus squarely on hitting a great shot.
2. Losing your golf ball
How many balls have you lost out on the course because you just couldn't see the trajectory and direction off the tee? Now you no longer have to worry about not seeing where it lands. You can play back your recording and find your ball every time. With less lost balls this might put the ball manufacturers out of business.
3. The recognition a hole-in-one deserves
They say a picture is worth a thousand words. What's a video worth? Now when you score a hole-in-one it's not just your playing partners that can relive the experience and share the memory. It's something you can share with your entire network. Plus, there is proof if you're playing alone and nobody believes you!
4. An end to golf shades
Finally, we can get rid of those ugly cyclist shades and instead look cool on the golf course with Snapchat Spectacles. As they say in golf, if you're not going to play good, at least look good.
5. Attending golf tournaments to capture the world's greatest players
The Masters and many other professional tour events have a no cell phone photo policy during official tournament days, but the Snapchat Spectacles is a nice work around of this policy. Now your camera phone can stay snugly in your pocket and out of view from confiscation while you snap away with the spectacles.
6. Powerful emotional impact
The new Snapchat Spectacles allow you to record from eye view providing powerful footage. The person who views your video has a better sense of the overall experience from your perspective.
7. Catching hundreds of trick shot fails
There has been a recent trend of people uploading golf trick shot videos to social media. Who knows how little skill they have and how much time they spend failing at the trick before they succeed? We can now spectate and record fails more easily with the spectacles and find out who really has mad skills.
8. Bringing the world of golf closer together
Snapshat Spectacles will help us upload and share a better golf experience, helping us connect on a more personal level with golfers from around the world.
We love it, Snapchat!