#4 The Review: Emirates Golf Club, Majlis Course
golfscape reviews Emirates Golf Club, Majlis Course
A review of golfscape's partner course, Emirate's Golf Club (Majlis Course), highlighting top features, key stats, and first-hand reviews from community members.
Emirates Golf Club, Majlis Course – Top Features:
Holes: 18 | Par: 72 | Length: 7,166 yards | Golf Season: Year Round
The Emirates Majlis Course was the first grass course to open in the Middle East, the club's name is the Arabic word for 'meeting place' and the course has stuck to it's name by hosting many international golfing events including the Dubai Desert Classic.
Donated by His Highness General Sheikh Mohammed bin Rashid Al Maktoum, architect Karl Litten designed Emirates Majlis course around the dunes in order to keep the desert flora in it's natural state. The Majlis building itself has been a landmark in Dubai since 1998 and is positioned between the 8th and 9th holes. 
Surrounding views of Dubai's city skyline ✓
Club/shoe rental ✓
Spa & health club facilities ✓
Meandering fairways and lakes ✓
Located in the heart of Dubai ✓
Dogleg 8th, the most challenging hole with an incredible view ✓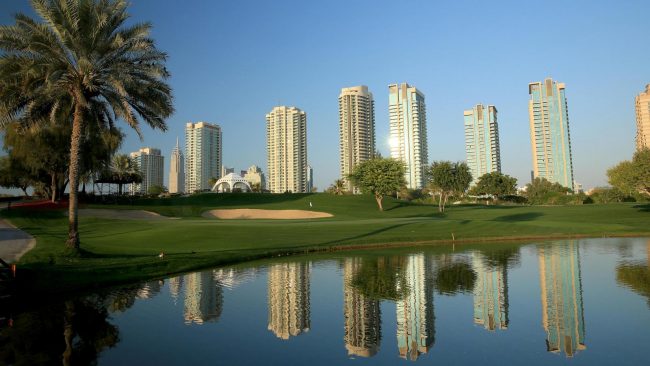 The Majlis Course has been ranked by Golf World magazine as one of the 'Top 100 Golf Courses in The World' 2016-17.
The course also received 'Best Course Middle East' in the Asian Golf Monthly Awards in 2015.

 

The course held the European PGA Tour for the world's top players, including Tiger Woods and Ernie Els.
Majlis' 8th hole is in Justin Roses' top nine favorite holes!
golfscape's Community Golf Course Rating (avg. from
781

golfers)
"Great course, just as it appears on tv for the professional tournaments. The amenities, locker rooms and restaurants are all what you'd expect of a top tier golf course. We played just prior to the desert classic tournament so the course was walking only, which was fine. Very walkable course if you prefer. If we had more time I wish I could have stayed for the night golf as well."
"Stunning backdrop. Great service. Great clubhouse. Course was in great shape."
Secure a tee time at Emirates Golf Club, Majlis Course