The Most Expensive Courses in the World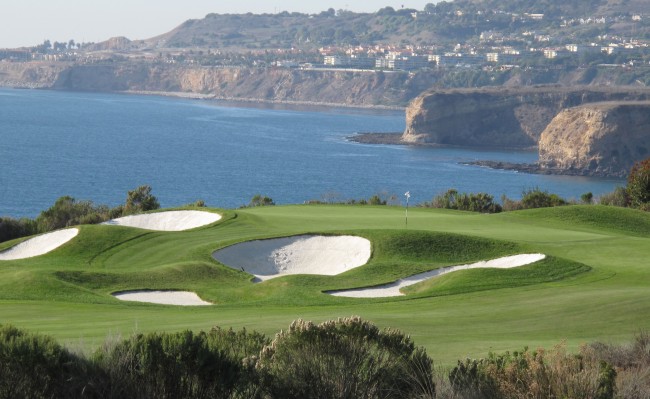 Golf is a game enjoyed all over the world by both players and fans. Many of whom enjoy to travel overseas to boost adrenaline into their golfing adventures. If you're one of these, you may have walked the same steps as some very well known names. It's no red carpet, but nonetheless is still pretty damn cool! There is a handful of luxurious golf courses around the world, all of which are of the highest pedigree. Unsurprisingly, these courses are very popular hot spots for both professional golfers and celebrities, all those who wish to hone their skills with the iron.
We have found out which of the world's golf courses ask for a hefty fee and which celebrities have taken on these challenges
10. Madison Club ­- California, USA
Situated in La Quinta, California, this 18-­hole private course offers up a 56,000 square foot luxurious clubhouse and provides members with an incredible golfing experience. Costing those privileged members a whopping fee of £23,000 just to sign up to the club is explanatory for this club's extremely high standards of services, facilities and fine dining. The club is an exclusive residential community and boasts a 6,900 yards and par 72. Set back in an immaculate and beautiful setting of trees, lakes and well groomed fairways offers golfers a great game with a breathtaking view.
Recognized as a pillar of excellence since its opening 1909, this club has welcomed some very well known American idols, who include President Theodore, President Barack Obama, former President Bill Clinton, and Dalai Lama.
9. Yas Links -­ Abu Dhabi
Said to be the first championship course in the Middle East, Yas Links offers members with an absolutely exceptional golfing experience. Costing almost £24,000 to join, members are smothered with an outstanding level of service and experience. This course is home to a variety of wildlife species, where members can experience the tranquility of nature whilst they play. Located on the Middle Eastern coastline means this golfing destination boasts a pretty spectacular view possessing natural views and a sense of harmony. It's captivating atmosphere and enthralling surroundings are enough to make any golf-­lover want to return time and time again. This destination is a multi-­billion worthy golfing masterpiece and its uneven fairways, pot bunkers and unpredictable wind conditions provide a thrill for the ultimate golfing test.

8. The Address Montgomerie -­ Dubai
This course is a spectacular 5-­star champion golf course with 18 holes, par 72 and is set on 265 acres of beautiful pristine greenery. The Address Montgomerie is not only considered one of the Middle East's most luxurious golfing destinations, but is now recognized as an extremely desirable golfing ground in the world. Incurring a fee of over £26,000 to join, members can be sure to expect the highest quality service alongside an excellent golfing experience.
Challenging all levels of player, this course boasts 7,396 yards of bermuda grass and even features a 9­-hole floodlit course for those who enjoy to play through the night. The course offers up an array of facilities and some professional golfing shops. Signified as the finest course in Dubai, The Address Montgomerie is a superb challenge for all levels of golfer who wish to advance their golfing skills.
7. Stoke Park ­- Buckinghamshire, England
Founded in 1908, this 27­-hole Championship golden course is situated in 300 acres of Buckinghamshire parkland, lakes, gardens and monuments. At a costly joining fee of over £28,000 per player, Stoke Park offers members the highest standard of facilities and services. Here, members can hone their skills within a beautifully landscaped course designed specifically by Harry Colt to be both fair and wide.
The course also prides itself for being the setting for the golf scenes in the 1964 James Bond movie Goldfinger. Stoke Park's clubhouse was also later featured in another Bond movie, Tomorrow Never Dies.
6. Singapore Island Country Club -­ Singapore
A well respected and professionally managed beautiful parkland course offering extremely high quality facilities and services. Now recognized as a 'super club', the joining fee of Singapore Island Country Club stands at a princely cost of almost £29,000. The course boasts 18 holes, a variety of layouts, 2 driving ranges, and a reservoir. Such facilities are accessible via invite only.
The course also boasts a three-­storey complex, where you can find the management office, a professional golfing shop, the jackpot room, and a number of ballrooms/function rooms.
5. Fancourt -­ Western Cape, South Africa
This luxurious 5-­star golf course consists of three sub-courses – The Montagu, The Outeniqua, and The Links –­ all of which are ranked in the top 20 courses for South Africa. The course boasts the status of South Africa's premier golf course and is set back in the immaculate countryside. Each of the courses vaunt 18 holes and are set in 550 hectares of lush greenery, with beautiful Outeniqua mountains in the background.
The course possesses a rather exclusive membership list, which only those who own a house on the property have permission to access. The cheapest houses will cost around £40,000 for just a six-­week period and these members are to pay an astonishing £43,000 joining fee.
The most popular of these sub-courses is The Links course, designed by South African golfing legend Gary Player and ranked by Rainbow Nation as #1. Transformed from an airfield into a fantastic golfing destination, now considered a masterpiece. These courses have had attention to detail implemented prestigiously. Along with the courses private locker rooms, roman baths, jacuzzis, pools, steam and sauna, gymnasium and members bar­ guests are expected to pay a plentiful price.
4. Wentworth Golf Club ­- Surrey, England
The course is located on the south western fringes of London, near to Windsor Castle and having recently been bought out by a new owner for £135 million, the club now incurs a six figure membership fee of £125,000. Members who pay this enable themselves private access to its three championship courses, which have recently hosted the BMW PGA and is now the headquarters to the European Tour. Such events have attracted some well known names, who include Rory McIlroy and Niall Horan, as well as Former Red Devils players Phil Neville and Paul Scholes. Other sightings of such celebrities have included Dan Walker, the BBC's Football Focus presenter and also Paul Lawrie, a former Open Champion.
In 1953 this golfing destination was used as the venue for the Ryder Cup and from 1964 until 2007 was the venue for the HSBC World Match Play Championship. The course is immersed within Wentworth Estate and has attracted well known players such as Ernie Els, who in 2005 became the clubs world­wide touring professional.
The course now stands at the length of 310 yards and boasts numerous different sporting activities such as tennis, a dance studio, a gymnasium, and various spa facilities.
3. Trump National ­- Los Angeles, USA
This course is the pinnacle of the luxury golfing experience and its location set back in Palos Verdes Peninsula on jagged cliffs offers up an impeccable view. Bought for just under £24 million, Trump National possesses an incredible golfing experience, some spectacular services, and extremely fine dining. These, in conjunction with the courses flawless panoramic ocean views render this club an extremely popular destination to golf at. Some well known members include former president Bill Clinton, Rudy Giullani and Joe Torre.
To play at this destination, which in 2005 was ranked by Golf Magazine at #73 in the United States and #84 by Golf Digest doesn't come cheap. To play here incurs an astounding fee of £132,000 per player to join, which is explanatory for the extremely high standards and services the club has to offer.
Its 7,242 yards and 18 ­holes set facing onto the LA sea cost a whopping £181 million in total and is said to be the most expensive golf course to be constructed.
2. Bear's Club ­- Jupiter, Florida
This course, carved into sweeping interlace of fairways stands alone within an enclave of exceptionally private, custom­designed luxury estates. Set on 270 acres of stunning Floridian greenery, this golfing destination is home to 18­holes and par 3, where members are expected to pay a generous £137,000 joining fee. Those who wish to retain an annual membership are also required to hand over another £17,000 per year.
An expensive destination for those who share a passion for a game of golf, yet elegant and gracious ­offering up both a tremendous and enjoyable challenge for all levels of player.This course has attracted well known golfing professionals such as Tiger Woods, Greg Norman, and Rickie Fowler. All of which, live close by ­so you can be sure that no matter what time of year you visit, you have a high chance of seeing these experts.
This club also boasts a 40,000 square-­foot clubhouse, 55 Estate Residences, 17 Golf Villas, 14 Club Cottages and 13 Vintage Estate Homes. The reasons this course is so expensive is down to its offering of an exceptional golfing experience, as well as pristine touches such as an impeccably prepared cuisine that members can expect when they reach the Tuscan­-themed clubhouse. This majestic feature is situated at the center of Bear's Club, providing golfing fanatics with excellent service and astoundingly high quality food.
1. Liberty National Golf Course – New Jersey, USA.
This golf course, costing a whopping £160 million to build is home to one of the world's most expensive golfing destinations. Located between Liberty State Park and Port Liberte and only 1,000 yards from the Statue of Liberty means Liberty National Golf Course boasts a pretty spectacular setting. Its golden amenities and top quality golfing service is perhaps, what renders this golfing ground extremely popular, even to some well known names. This destination has gained much interest from the likes of Rudy Giulliani, Phil Mickelson, Matt Lauer, Eli Manning, and Mark Wahlberg.
Offering up an on-site heliport service, yacht services and various spa treatments does not come cheaply. This club incurs a joining fee of £256,000 per player, where members are able to take on a golfing challenge in the same location where many Professional Golfers' Association (PGA) events have been staged. This course takes the lead to any other course and was awarded T he Presidents Cup 2017.
So if you love to hone your skills with the iron, you now know of some of the world's most golden courses and their costly fee. If you visit these incredible golfing destinations, you will not only have an amazing golfing experience, but will be sure to see some famous names walk the same grounds as you.