Yas Links: Excellent Links Course Architecture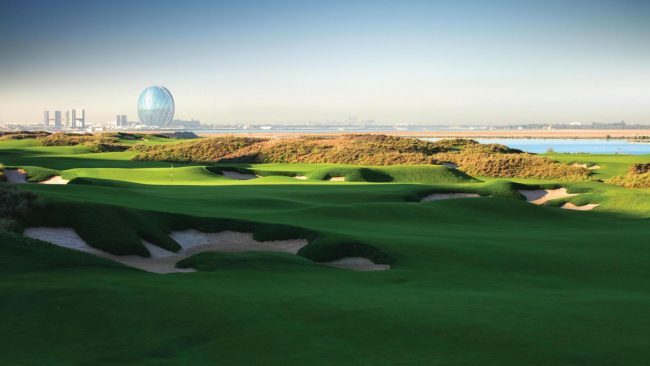 Yas Links, ranked 46th in the world this year by Golf Digest, truly is a must-play when you come to town. The Abu Dhabi golf course is based on Yas Island and is part of a huge Arabian Gulf entertainment development. On this island, that can be reached by boat, plane or car, is The Ferrari World Abu Dhabi Stadium, Yas Waterworld, and Yas Viceroy where many of the UAE's biggest acts perform in concert.
This world-class championship golf course was designed by Kyle Phillips, also designed Kingsbarn just outside St Andrews in Scotland, currently ranked 69th in the world this year by Golf Digest. The championship course is located on the west shores of Yas Island and includes a 5,750 m2 (57,000 ft2) luxurious clubhouse and world-class, floodlit practice ranges and academy of golf. Phillips transformed the course from desert to links by using two million cubic yards of sand dredged from an adjacent marina to and give the layout the shape and contour, then covering everything with Paspalum turf. In the words of Golf Digest Middle East:
"Much like he did with Kingsbarns 10 years ago, Kyle Phillips has created a golf course from scratch that feels and plays like a completely natural site he just happened to stumble upon."
For your chance to win a four-ball at Yas Links:
The Links Golf Course and it's surrounding area is of high ecological significance. This is substantiated with the new mangrove plantations lining the western shore totaling 130,000 plants.The course has many traits of a links course in Scotland, with it's rolling hills and seashore green locations, coastal wind and birds spectating as you play.
Yas Links has won many awards numerous times since opening in 2010 for not only the quality of the course, but it's facilities, experience, general manager, and even winning an award for best bar in Abu Dhabi. The club offers the 18 Hole Championship Links Course, a 9 hole floodlit Par 3 Academy Course, men and ladies locker room with private steam room, as well as an infinity pool. Where other UAE golf courses can't compete is with the mesmerising view Yas Links offers of the coastline course, and Persian sea. As you cruise the course in a GPS cart you'll see water-sport enthusiasts on canoes and jet skis until sundown.
Lessons are available to scratch-players and first-timers, adults and children, individuals and groups. The staff and members are very welcoming to visitors no matter what you play off. The restaurant provides casual all day dining where you can relax in front of the views over the golf course and swap stories after a round of golf. You can even enjoy a Tennant's Lager at the bar.