Travel Stories: A Foodie on the Fairways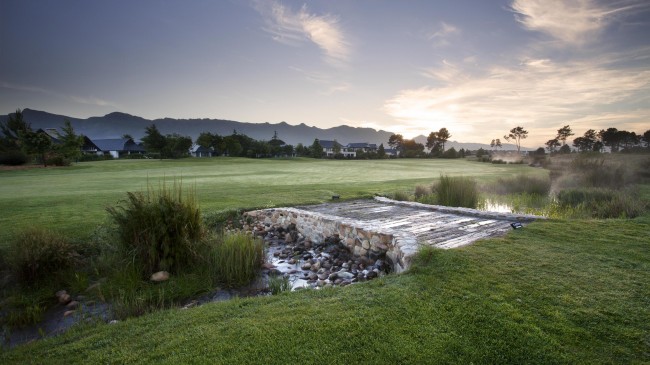 At golfscape, we like to send our in-house experts out into the field and explore all parts unknown of the destinations we serve from the golf to the culture. Therefore, It wasn't hard for the team to convince our co-founder at golfscape, Michael, to get on a plane and spend the weekend exploring Cape Town during April's Autumn harvest season. Michael happens to be the best golfer on our team but his passion for the sport is being rivaled in recent years by his love for food.
With a well-known golf reputation already, the "Mother City" offers top ranked courses with contrasting styles, and has more recently been recognized for being the #1 foodie destination in 2016 as ranked by Conde Naste. Here are a few tried-and-true spots he visited that might help give you some ideas for a future visit.
I landed in Cape Town from Dubai on a Friday morning in mid-April, and decided to head straight to the south suburbs for a noon tee time at Steenberg Golf Club, which is situated on a hotel estate set amongst the oldest wine farm in the Cape Peninsula dating back to the late 1600's. The golf course officially opened in 1996 and it snuggly sits up against towering stone-exposed mountains, which shelters the layout from the prevailing winds. This can lead to unique micro climates and mixed playing conditions. I'm a big fan of golf in and amongst vineyards, and Steenberg doesn't disappoint offering visitors a range of other signature experiences from award-winning wine tasting to a history lesson through art. The property oozes authenticity that features a collection of original artwork by the likes of Cecil Skotnes and Edoardo Villa, both highly respected South African artists.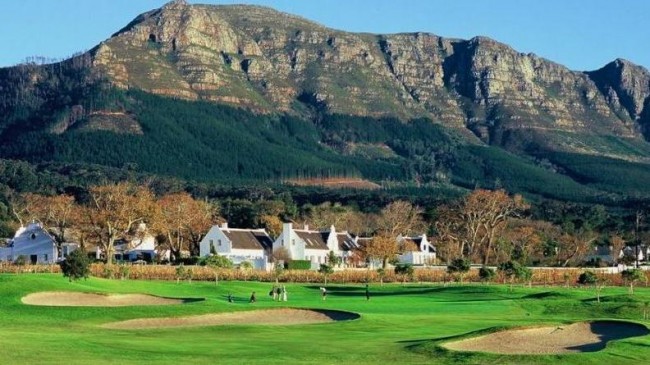 When leaving the club, I took the scenic drive over the Cape Peninsula mountains dropping down into Hout Bay before then turning north on a winding coastal road with the Atlantic Ocean on the left meandering up towards Camps Bay – an affluent and sublime suburb of Cape Town. That's where I parked my car and jumped out to take a walk on the beach that included capturing this shot at sundown.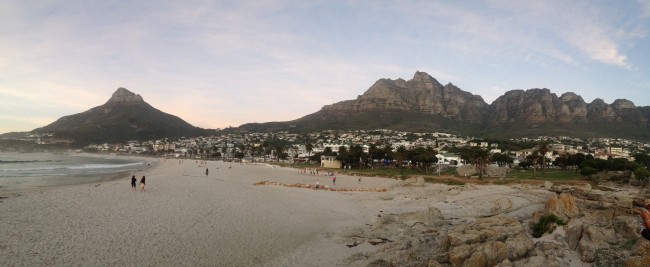 A good friend from New York put me in touch with an urban insider blog writer in Cape Town who recommended I eat at Black Sheep Restaurant on Kloff Street on the south slopes of the city. As she put it to me, the restaurant offers "great, hearty food and a nice vibe, a good place to go if you're wondering where the plugged-in locals eat." I I enjoyed a four course meal highlighted by the hanger steak main dish and a glass of red wine from a local Stellenbosch vineyard. The bill totaled $15.00!
My Saturday featured a full day in the wine lands playing golf and exploring the towns of Stellenbosch, Paarl and Franschhoek. I teed off at 7:30am at Pearl Valley Golf & Country Estate, situated approximately 45 minutes drive from my Cape Town hotel. The drive was easy and I was greeted with a surprisingly quiet golf course for a Saturday morning, learning from the golf shop attendant that all the "swallows" who migrate down to the Western Cape from Europe from November to March had returned home by this time I visited. The Jack Nicklaus design lived up to my expectations and what I had read about the experience before arriving. The conditioning of the course and facilities were superb, while the quality service from the knowledgeable staff was equally memorable. A new ownership has recently acquired the property and has big plans for a hotel and resort that will lend even more credibility to what is already a stunning place.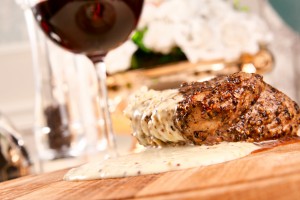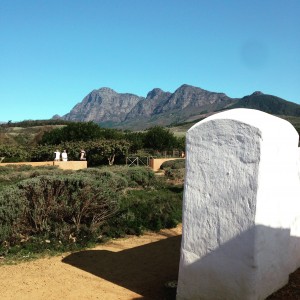 The golf course has two signature holes, the 4th and 13th, both offering magnificent views of the surrounding mountains and lakes. I felt fortunate to play both holes in one under par, that I learned were the most televised when the course hosted the SA Open for three years in 2007, 2008 and 2009.
Only 10 minutes from Pearl Valley is Babylonstoren, a farm and garden spanning hundreds of acres. There are over 300 varieties of plants in the garden that are edible and grown organically for use in its award-winning Babel restaurant. The property is nothing short of magical, where I was able to sit outside and enjoy a tasty three course set menu brunch with a friend, collectively gushing over the view.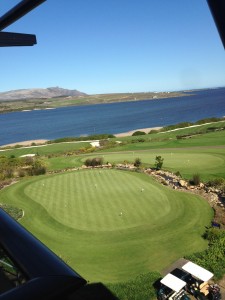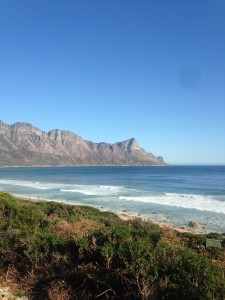 On Sunday morning before flying back to Dubai, I played the top ranked Arabella Golf Estate approximately 75 minutes from Cape Town. The course was definitely the most demanding of all three courses I played on the trip with well-guarded greens and demanding tee shots that placed a premium on positioning. The Peter Matkovich design is situated on the banks of a tidal estuary that has the ocean flowing in and out throughout the day. I loved every second of it and played my best round of the weekend that put me in great spirits anticipating a future trip to golf in Cape Town where I could stay a few extra days next time. I've included a few final images of my view at Arabella over a well earned post round lunch and the drive back to the airport with no traffic to speak of and these views! And with that, the weekend was over and I was back at my desk in the office in Dubai with a bunch of new golf travel stories to share with colleagues and our growing community.