Sharjah Golf & Shooting Club – Hosts of The European Senior Tour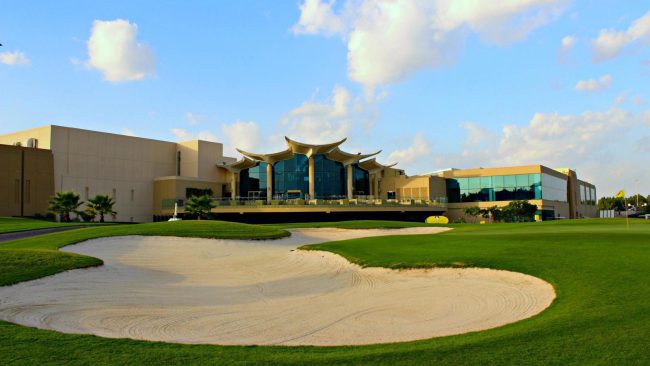 Sharjah Golf & Shooting Club is located 20 minutes from Dubai International Airport and is a fantastic golf course to take your family to when playing golf in Dubai. Don't be frightened by the name, this club offers golf for all the family and much more.
Designed by internationally acclaimed architect Peter Harradine, this 9 hole golf course is fully floodlit to play from 7:30AM in the morning to 11:00PM. Played morning or night, this oasis of Paspalum grass will provide a par 72 layout that stretches in excess of the 7,300 yard mark. A pleasure to play but a challenge to par, the course offers between 5 and 7 different tees on every hole, vast water features, generous fairways, large and challenging bunkers and unique undulations; all of which ensure this golfing paradise offers a fair but tough test to every level of golfer and one you will relish time and time again.
Established in 2005, the club offers top teaching facilities for all ages. Their junior academy is now producing some of the best junior players in the UAE, so expect to be distracted by outstanding chipping onto the green from juniors as young as four. Sharjah's world-class instructors keep all participants interested by developing balance, agility and strength through games, as well as focusing on aim and swing. The club holds tournaments through their academy. Juniors have now developed handicaps as low as 10 and are winning Junior Ladies and Mens Opens across the UAE.
Voted Best Value Golf Course in the Middle East in Golf Digest's 2015 public vote this golf course is the perfect golf course for any family. But there is more to enjoy than just golf at Sharjah Golf & Shooting Club than just golf, the club provides first class facilities for virtual golf, archery, tennis, basketball, indoor and outdoor paintball, a signature spa for both ladies and gentlemen, and two restaurants.
The club has recently been appointed hosts for The European Senior Tour in March 2017, with a prize fund of US$450,000 on offer. This is a three year agreement. The course has been building up to this for a few years now and are thrilled to host this world-class event that is open to players over 50 and will host the best of the best. Sharjah Golf & Shooting Club have done an excellent job in creating a community feel welcoming any class of player of any age.
Sharjah are offering you the chance to WIN a four-ball: