Modern Golfer Travel Essentials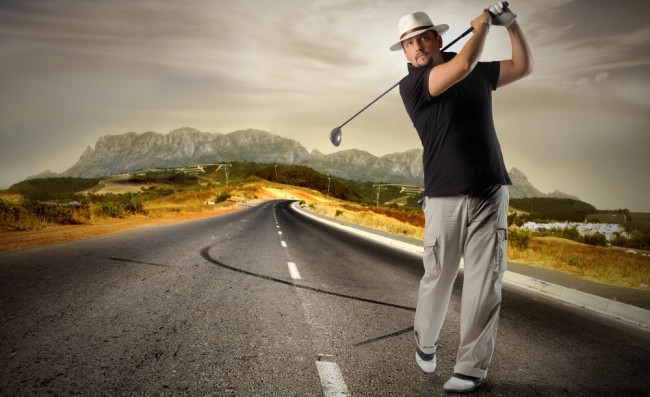 The ardent golfer would play Mount Everest if somebody put a flagstick on top of it. – Pete Dye, Golf Architect
But whatever lies next to conquer as your golf version of "Everest," the most essential quality after adaptability is a high level of preparedness. That's why we have curated a collection of the must-have travel accessories that will help you make the most of your next destination golf experience.
Make Sure Your Clubs Get There Safely          Play Global and Track Every Shot
Playing a new course that you want to track shots on and save forever? The Arccos Golf Tracking System (R) will make the most of your experience using the swing you have. It does so with an army of 14 sensors that attach to each of your clubs and talk to the companion app while you play. Using GPS info from your phone, it knows how far you're hitting each club, as well as how far you are from the green, and can use that to make in-round club recommendations (right on your wrist if you're wearing an Apple Watch).
You've invested thousands of dollars in your golf set. Now you want to protect it when you take your golf on the road, but do so in a way that keeps your luggage to a minimum. The Puma Golf Travel Bag (L) does away with these problems by combining the golf bag with suitcase-style storage, allowing you to pack all your golfing gear and personal effects into one sleek package.
    JetLeg? Get to the 1st Tee On-TIme                Plan for the Inevitable Rainy Day
You land in your golf destination jet-legged and need a cat nap before your first tee time, but the red LEDs of the hotel room clock aren't to your liking. Instead pull the World Time Clock (L) out of your bag for a little extra flair. The 12 sides on this clock, representing two time zones per side, help you determine local time by rolling the clock so the city representing that time zone is on top.
Did you know golf is the only sport ever to be played on the moon? Prepare for the inevitable raining day while playing golf abroad with this Star Wars Darth Vader Lightsaber Umbrella (R). The grip is molded after Vader's own lightsaber, and the umbrella is 40-inches when open, and features automatic telescoping. If only your golf grips had this type of engineering.