An Interview with golfscape's Brand Ambassador, Madeleen Grosskopf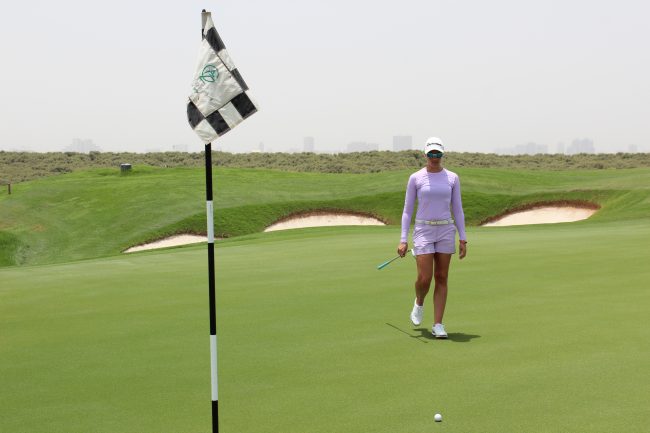 golfscape interview's
Brand Ambassador
,
Madeleen Grosskopf
, to discover how she became a professional golfer 4 years after picking up a club, her most embarrassing moment on the course, and her favorite cheat meal…
Q. Describe your day as a professional golfer
Eat, sleep, play golf, workout, and eat more! On a more serious note, I try to sleep 6-7 hours a night; do a technical session in the morning, play 18 holes after lunch and follow that up with another range session. I would do a cardio, strength, and condition workout. My workouts differ based on my training plan.
Q. What gets you out of bed in the morning?
I am scared to live just an average life, not impacting the lives of others. Waking up most mornings at 4:45 am comes with one thought only: change one life today. Every minute I sleep in is a minute that I won't be able to get back to make a difference in my own life or in the lives of others. Every minute I sleep in or scrolling through social media is a minute that my competitors spend working out and improving their skills. These are all thoughts that play through my mind and get me up in the morning. But I must admit, the smell of good coffee contributes a lot.
Q. Describe the journey of your sporting career in one sentence.
It's not merely how hard you fall, but how gracefully and quickly you stand up, and fight on.
Q. Who was your greatest teacher? What has been your greatest lesson?
The list is long, but one that stands out above all would definitely be Johann Schoeman, multiple business owner, and entrepreneur; at the time my boss before I resigned to take up golf full time. Johann taught me to live life to the fullest, seize every opportunity with all the might, and power regardless of how inexperienced, under-resourced or small you are. Johann is a fair, yet extremely hard but understanding leader.

He taught me the true value of time and to chase dreams, he taught me to believe in myself when others won't, and the importance of putting 10,000 hours into something before you can say it was a success or not.
Q. Did the change to becoming professional change your life for the better?
Turning professional came with many challenges. In the beginning, it was easy to adapt because it was only a status change. Sooner than later I realized that it was more than a status but a major lifestyle change. Professional golf became my work and not just a hobby that I enjoyed doing three hours every day. I had to change my routine, my sleep patterns, my eating habits, my training regime. I had to swop late nights for early mornings. Looking back, I am glad that through professional sport I had the eye-opener of changing my lifestyle and habits around.
Q. Is there anything you would have done differently?
I would have loved starting this journey earlier. Only being exposed to golf in my mid-20's makes it tough as the average age across all women's tours is mid to late 20's. What I tend to forget is that my age shouldn't determine the outcome on the course.
Q. Did you experience failure?
Who didn't? It's part of life. Not just in sport. I have learned more valuable lessons from failure than I ever will from successes.
Q. What do you say to people that say, "How did you do that?"
I just did it. I never gave up. I kept knocking on doors. And until this day, I keep knocking on doors. One thing I have learned on this journey is not to dwell on closed doors; I am a firm believer that God closes doors because He has so much more in store for you. Never give up on your dreams, set your goal, and work backwards to develop the best possible route to reach the top notch. Nobody is going to put the hours in for you, it's all your own effort and responsibility.
Q. What would you say to people that have never played golf before?
It's a great sport to play, it takes you to some of the most beautiful settings in the world, but it's hard work. Golf is not a game of perfect. Everything is on the other side of fear. The master has failed more times than the beginner. Never give up!
Q. How does golf make you feel?
Very humble. As soon as you get ahead of yourself, it brings you back down to earth very quickly.
Q. Describe your career dream…
Play 20-25 events on the circuit annually, win a couple of events including a major or two in my career. Climb the international rankings and be eligible to represent South Africa at the Olympics. I would love to retire and live on a beach for the rest of my life, perhaps somewhere in French Polynesia; but I am way too passionate about children, education, and the golfing industry to let this happen soon.
Q. Have you ever had any injuries? What advice can you give others on recovery training techniques?
Yes! As an athlete, it is the worst of times to find yourself being injured. It definitely tests you on all grounds. I value the support of my coach, family, the medical team including a physiotherapist during injury. Without constant monitoring by the medical team, you would have no idea if your recovery is truly on track and we cannot afford to go just on the way we feel. I would urge anyone to rather be safe than sorry and truly invest in preventative medicine. Having a tailored strength and conditioning plan in place to follow puts your body's conditioning in the best shape to prevent unexpected injuries. It is also very important to follow an eating plan to ensure you provide your body with natural vitamins, minerals, nutrients, and energy.
Q. How do you train to play golf, do you follow a schedule/plan?
As a pro player, and even when I was an elite amateur, I follow a training schedule to ensure that my training days are filled with well-planned quality sessions rather than merely hitting 1000's of balls.
Q. Can you give an overview of your diet plan?
I'm currently following a low carb, gluten-free, reduced sugar diet. I am very passionate about Health and Wellness and did a diploma in sports and performance nutrition. This gives me the opportunity to adjust my diet as I go and helps to understand how different training blocks have different nutritional needs.
Q. What are your guilty pleasures?
I am a coffee snob! So any proper specialty coffee or roastery draws my attention! Coffee, beach days, and frozen yogurt or gelato!
Q. Favorite cheat meal?
Does a tub of Nutella count?
Q. If you hadn't picked up a golf club, what would you be doing instead?
I would've become an advocate for humanitarian work for children and education. I was very fortunate to work at an orphanage in a slum in Nairobi. This instilled a dream to build schools and sports facilities across Africa and Asia. My parents gave me, against all odds, the best opportunities to do everything I loved (and even didn't love), and I want to create that chance for a child who doesn't have the opportunity to dream. This is by far still my greatest dream, and I hope to use my golfing exploits to start such a foundation.