Exclusive Interview with Golf Legend Annika Sorenstam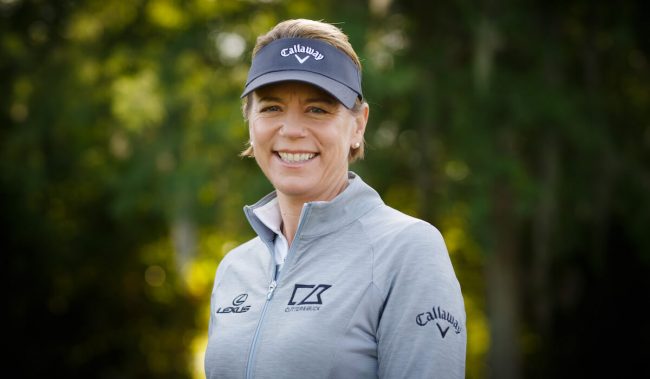 Professional golfer, businesswoman, and international role model – get to know the greatest female golfer of this generation
Regarded as one of the bests of all time, Annika Sorenstam is an influential woman that's paving the way for women both in golf and in business. From playing a professional men's tournament to founding the global Annika Foundation, this simply wasn't enough. Annika gives us an insight into her career, her views on equality in sport, and what plans she has for the future. Discover the courageous journey of a golf legend and the greatest role model for women in golf.
"I'd won a lot of important tournaments, had shot 59, and competed against the men."
Firstly, we just wanted to say how honored we are to have this opportunity to interview one of the greatest players in golf. It's incredible to know that you started playing golf at the age of 12! Did you play any other sports? Why did you choose to pursue golf professionally?
Thank you. When I was a child, I pretty much played anything with a ball along with downhill skiing. The first sport I really enjoyed was tennis. I played a lot of it, and didn't take up golf until I was 12. However, golf became much more of a focus for me throughout my teenage years. I am a big believer in children playing many different sports when they're young and not specializing too soon.
Many articles mention you being shy a couple of times. How did you overcome your fear of public speaking? Do you think that being shy had an influence on your career?
It's true, I was very shy as a child. In fact, there were several occasions where I was leading a junior tournament, but purposely dropped a shot or two down the stretch. That way I wouldn't be forced to give a little victory speech at the awards ceremony. My dad picked up on this and started asking tournament organizers to request that the second and third-place finishers say something as well. This tactic forced me to face my fear and was exceptionally beneficial to me in the long run. If I hadn't faced and conquered this fear as a child, it undoubtedly would have affected my career trajectory.
So you are from the beautiful country of Sweden. What was it like to grow up there? With an estimated 1 million golfers in Sweden, what do you think makes Swedes love golf so much? Can we also ask to share your favorite course in Sweden with us?
Sweden was a wonderful place to grow up. Swedes love their sports and our family was no different. We were always playing something – tennis, golf, soccer, skiing. I think Swedes love the sun and being outdoors and what better sport for that than golf. It's a game that requires such great patience and discipline. If I had to pick a favorite course, it would be Bro-Balsta, which is where I learned the game and grew up playing.
We can imagine that your career has taken you to so many golf destinations outside of Sweden, what has been your favourite experience so far?
I have been fortunate to visit many incredibly beautiful places during my career. I really enjoyed playing Pine Valley the day after I won my third LPGA Championship in a row. Nowadays I enjoy playing with my family at Lake Nona in Orlando, Florida, or Montreux in Reno, Nevada.
It sounds like your family enjoyed to play the game, as your sister also pursued golf professionally with the LPGA. Being a competitive player, did this cause any tension or conflict between the two of you?
Yes, my sister, Charlotta, was a very accomplished player as well. She was an All-American at the University of Texas and won the NCAA Championship. She then moved on to the LPGA and won there as well. Unfortunately, she started having some issues with injuries that cut short her playing career. We were always competitive on the course and off of it. She's now an exceptional instructor in Florida.
In 2003, you were invited to play at the Bank of America Colonial Tournament to play with men, this must have been an incredible experience. How did it feel playing alongside men in a professional tournament?
Yes, it's definitely one of the major highlights of my career. It was quite the journey to get to Colonial, and I cherish the memories made that week, but also the countless hours of work on the course and in the gym that led up to it. I had incredible support and learned a lot about myself. I struck the ball really well, but just didn't make quite enough putts.
Now we would love to talk with you about equality in the sport; we believe that equal pay still has a long way to go. When did you first see the huge difference in winnings between men & women golfers? How did this make you feel?
While there's a ways to go when it comes to equal pay in sport, great strides have been made in recent years. For example, Wimbledon now offers male and female competitors the same prize purse, and, as recently as this week, the R&A increased the AIG Women's British Open purse by 40%. The first prize in the Women's US Open this year was $1 Million. I'm hopeful golf continues to build toward this long-term goal.
When we were watching your keynote speech at the Valero Texas Open, you mentioned a loss of motivation to play golf starting in 2007. What would you say was the biggest factor or influence to your motivation?
I think there were a few factors. For one, I had a neck injury that year, which made it harder for me to practice like I needed to maintain my high standard of play. Once I came back from that in the end of 2007 and won in Dubai, that's all I needed. Second, I began to realize I'd accomplished all I wanted to on the golf course. I'd won a lot of important tournaments, had shot 59, and competed against the men. Third, I had my sights set on starting a family and when I did have kids, I didn't want to have to split my focus between raising them and playing competitive golf.
With an incredible 16-year career, what would you say is the average career length of a golfer? Why do you think golfers start losing motivation at some point? 
As you note, I think it all depends on motivation. Some players, like a Laura Davies or a Bernhard Langer, are driven to play at a very high level for decades. Others play for a considerably shorter amount of time. I can't answer why that's the case – all I can say is that motivation is a very personal trait.
You have been such an amazing influence in the golf industry from the ANNIKA Foundation, the Annika Collection clothing line with Cutter & Buck, and golf course design – you have certainly been keeping busy. Did you find it difficult to change careers? What would you say was the most challenging aspect of your post-LPGA career?
I didn't find it difficult to transition to the next phase of my career because I was ready to do it. With nothing left to prove to myself as a touring professional, I was excited to begin doing other things. It could be very different for someone who was forced to leave before he or she was ready due to injuries or something else outside of their control. But moving on from the LPGA was 100% my choice.
I'd say the most difficult aspect of my post-LPGA career has been balancing my professional responsibilities with family time. But it's still much easier to do than if I were still playing professional golf and having to prepare for 25 tournaments a year!
The ANNIKA Foundation is an organization dedicating time to develop women's golf around the world. What gave you the idea to start this incredible foundation? How did you make this idea come to life?
When I created the ANNIKA Foundation more than 10 years ago, my goal was simple – to offer aspiring junior golfers opportunities to pursue their dreams. From this humble beginning, the Foundation has grown into a global platform, annually hosting tournaments on five continents and, to date, impacting thousands of girls and young women from more than 50 countries.
And while on-course excellence is celebrated, our "More than Golf" mission is always front-and-center with programming that's focused on the importance of nutrition and exercise to living your best life. I really enjoy interacting with all the competitors at the tournaments and sharing my experiences to help them achieve all of their goals.
Lots of people say that golf is bigger than the game itself. What did you learn from playing golf and how did it prepare you for your next steps?
I learned so much from the game of golf. If I had to pick two things that I've sought to apply to my post-LPGA career, I'd say it's the importance of patience and preparation. Both are crucial to business success.
What would you say is the recipe for a successful business/brand?
Well, I already touched on two elements – patience and preparation. But authenticity is also critical to the mix and something I always focus on with my Foundation, the Annika Collection by Cutter & Buck, my course design work, and other initiatives with which I'm involved. And because authenticity is so important to me, I only get involved in a project if I can devote 100% to it.
What are your top 3 highlights of your entire career as a professional golfer AND as a businesswoman?
In no particular order…
Playing in the Colonial Invitational
Shooting 59 on the LPGA Tour
Starting the ANNIKA Foundation and influencing the lives of so many girls
Over a year ago, you had the opportunity to play a round with Jack Nicklaus and Gary Player at the Greats of Golf Competition. Who would you say is your favorite golfer to play with? 
I'm fortunate to have met so many wonderful people through golf and made such great friends like Jack and Gary. Besides family members, Jack, and Gary, I'd say my favorite person I ever played golf with was Condoleeza Rice. She is such an amazing woman who has done so much on so many levels. To be Secretary of State and to do so much in business and philanthropy is so inspiring.
We have had a little peek at your social channels and can see that you also juggle your business alongside being a mother of 2. Do you wish your kids played more golf? What kind of life advice would you give them at their age?
I think both Ava and Will are starting to get more and more interested in the game, especially Will. Each have competed in Drive, Chip & Putt qualifiers and done quite well. My life advice to them is to enjoy whatever they're passionate about and to appreciate how fortunate they are to have experienced so many wonderful things at such a young age.
Last but not least, what's next for golf legend, Annika Sorenstam? 
Well, our Foundation and its impact continues to grow, so please stay tuned for further announcements from our team. And the Fall 2019 line for the Annika Collection by Cutter & Buck will be out soon, too!